Exclusive Seller Representation - CCA works exclusively with its Principal/Owner clients to provide the highest level of Sell Side Representation in the investment sales industry. Our marketing platform and proprietary database of Buyers allows us to readily identify the "Right Buyer" for each asset and enables our Sell Side clients to achieve the highest price the market will bear when divesting an asset.
Concierge Level Buyer Representation - Of the many things that differentiate CCA from its competition is our boutique and personalized approach to Buyer Side Representation. Our team of Advisors takes a hands-on, first-person, proactive approach to assist each client in achieving their investment objectives. From inception to closing our team is present, engaged and communicative while advocating for our client's best interests.
Consulting Services - Our core competency goes far beyond the mere "Brokerage" of commercial real estate. As consultants working on behalf of our clients, we actively identify opportunities that strategically match our client's acquisition criteria, risk tolerance and management capabilities. Whether working with Buyers or Sellers our team is extremely adept at enhancing each client's ability to harness and maximize value.
Sale Leaseback Services - CCA has successfully completed Sale-Leasebacks for many of its clients. For those individuals or entities seeking to free up equity to pay down debt, improve their balance sheet, finance the expansion of their existing business, purchase new equipment, invest in new opportunities and take advantage of the tax benefits afforded by this structure, we welcome the opportunity to be of service.
Portfolio Acquisitions and Dispositions - CCA has long standing industry relationships with a wide breadth of clients that include public and private institutional groups (i.e. REIT's, Pension Funds, etc.), private equity groups, syndicators, family offices, developers and high net worth investors. On a portfolio level, CCA's platform, relationships and transactional experience have been essential resources for our clients in successfully completing portfolio deals.
Financial Analysis - CCA takes an "investment banking" approach to underwriting. In analyzing each opportunity, our clients are certain to obtain accurate valuations that are "in line" with current market conditions.
Market Research - Providing our clients with current, accurate market data is a critical component of the CCA platform. CCA leverages industry relationships, third-party subscription based services and its own internal database to lend valuable insight to our clients in markets all across the country.
Due Diligence Services – Making educated decisions and mitigating investment risk is the byproduct of researching and qualifying every component of a deal. CCA assists its clients throughout the due diligence process by analyzing the results of reports generated by third party vendors in addition to qualifying the location of every asset, the financial metrics of each opportunity and the greater real estate intrinsics of each deal.
Featured Property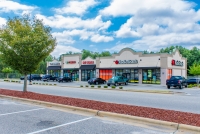 Spring Lake Town Centre
624 Lillington Highway
Spring Lake, NC
$1,400,000
Cap Rate: 8.00%
Sold
More Info
Upcoming Events
CCA In The News
CAP Rate Trends