The Capital Markets Group at Cambridge Capital Advisors leverages its extensive transactional experience and a demonstrated network of local, regional and national lending relationships to provide customized debt placement solutions for its clients. In addition to sourcing the most competitive loan products available in the market, we are ultra committed to providing the highest levels of responsiveness and service from the inception of our engagements through closing. In doing so we are intently focused on procuring the best loan terms and maximizing loan proceeds for our clients while assisting them with structuring effective, value enhancing financing opportunities that meet their financial and investment objectives. Furthermore, our advisors are highly attentive in acting as a conduit between lender and borrower to ensure a smooth transaction and timely close.
As such, we are best positioned to provide competitive loan products across a broad spectrum of asset classes including the following: Single-tenant net-lease, retail, shopping centers, multifamily/apartments, office, medical office, industrial, assisted living facilities, hotels/motels, marinas and self-storage.
Our services and placements include the following:
Acquisition Financing
Refinancing
Permanent loans
Construction loans
Mezzanine financing
Mini-perms
Fixed rate/ Floating and Adjustable rate loans
In the event you wish to speak to someone regarding a prospective need for financing or re-financing, please contact (617) 964-1031 for a free consultation.
Featured Property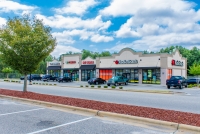 Spring Lake Town Centre
624 Lillington Highway
Spring Lake, NC
$1,400,000
Cap Rate: 8.00%
Sold
More Info
Upcoming Events
CCA In The News
CAP Rate Trends